The Client
Tiny and Mini Warriors is a Foundation Stage and Key Stage 1 class that uses Mixed Martial Arts to encourage a child's enthusiasm for knowledge, learning and physical activity. Children will develop their knowledge and understanding about the body, colours, numbers and most importantly good social skills and of course Mixed Martial Arts. The sessions are primarily aimed to ready students for extracurricular physical activity and physical education.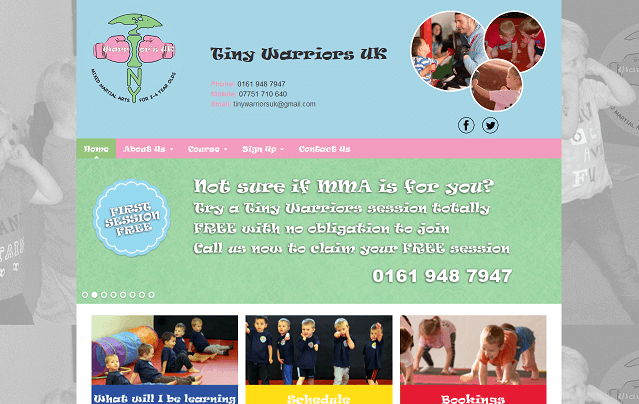 The Challenge
Tiny Warriors needed their first website. It needed to be one that as well as being informative to parents, would also capture the attention of a child. Mixed Martial Arts is viewed, by some, in a negative way. So the use of images showing how much fun the children actually have during a class was important. Thinking about how/when parents may want to access the information, the website needed to be easily viewed on all platforms.
The Solution
The images Tiny Warriors gave us, really helped in enabling us to show how much fun the children can have during a Mixed Martial Arts class. The landing page layout gives the user quick access to the information with minimal clicks and is easily read/viewed on multiple device types. The use of pastel colours helps to capture the childs attention, without being too bright and overpowering.
Brilliant! The new website looks great, the colours and the background image work perfectly. Well done, great work.