If you're a small business that hasn't given much thought to how you can benefit from local search results, then you're missing out. Local search results allow potential customers to find your business when they need it.
Let's imagine you have a restaurant business in Marple, there really is no point in you appearing in the search results for restaurants in Marple, Pennsylvania is there? That's where local SEO comes is.
Local SEO is essential to small businesses that operate on a regional level.
What is local SEO then?
Local SEO is focused on providing results that are relevant to a searcher based on their current location. If I search for 'steak restaurant' on my desktop or smartphone right now, using a business's local SEO information along with my location, Google would provide me with results that are nearest to me.
If you're at work and you do a search for cafe right now, the search results will show options that are near you, even though you didn't specify a location. Do the same thing later, when at home and the results will be different (unless you live & work in the same area of course).
That's local SEO at work. You see localised results, with the search engines showing you the most useful options based on where you are.
Most of the time you'll see what's known as a map pack of three listings on a map of the area, plus ten organic listings, and potentially some paid ads.
Imagine you're planning a weekend away in York. A search for hotels York presents you with more local results, only this time the results are based on your specific search terms.
In each case search engines like Google and Bing understand the context of your search and adjust their results accordingly. This happens for many types of businesses – not just hotels, but hairdressers, restaurants, plumbers, car garages and more.
Local SEO helps us show up for as many of these local searches as possible. By optimising for the signals search engines use, some from traditional SEO, some specific to local, you increase the chances of appearing when your audience is looking for your offering in your locality.
With the rise of smartphones, local SEO has even more opportunities. Mobile users often look for nearby businesses on the go in a manner that simply wasn't possible before.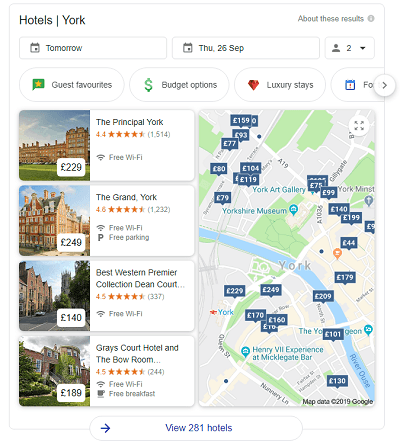 How local SEO works
From a user's perspective, local search results are just like any other. Google, Bing or any search engine uses their algorithm to determine the best answer to your search.
Search engine algorithms are incredibly complex and take into consideration a wide range of factors. Google itself talks about local ranking factors in terms of:
Relevance: are you the relevant result for the user? Does your website match what the user is looking for?
Distance: how far away are you located? If you are relevant and near, you'll get a good ranking.
Prominence: this is about how well your business is known.
Google then use a number of their 200-plus ranking factors to help make this calculation and give you your results.
It is easy to be overwhelmed by such detail. However, don't think that local SEO is too complicated, or even time-consuming for you. Next month we'll be looking at how Google My Business can help with local SEO.
Contact IH Media today to discuss your Website Design needs and let's give your business the service it deserves.