How Google My Business Can Help With Local SEO
For small businesses that operate within local areas or have a bricks-and-mortar location from which they serve customers, implementing a Local SEO strategy is a core component to being found by potential customers.
Getting noticed in search results is something every business owner with a website is looking to achieve. You may already know that improving your site's Search Engine Optimization (SEO) can help to increase traffic, but where should you start?
One key step towards success in Local SEO is claiming and verifying your Google My Business listing.
What is Google My Business?
Google My Business is a free tool which displays important information about your business directly in the search results. Once you have claimed your listing, a Google Maps location is generated that synchronizes with the search engine, in order to make your business easier to find.
Google My Business also helps to display details about your business that are related to specific searches. In our example, a simple search for "butchers" shows local butchers and their locations on the map. This is particularly important for letting nearby potential customers know about your business.
Also, Google My Business allows you to tailor the details that are displayed in your business profile. Such as business address, phone number, opening hours, and website link. It's also a place where you can post images of your business, manage customer reviews and respond toa customers question.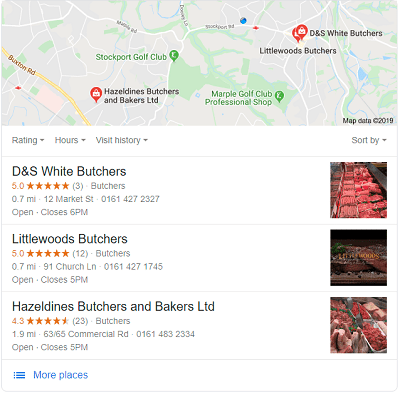 Great! How Do I Get My Business Listed?
The first thing you need to do is to claim you free listing. To do that, go to Google My Business and log-in (or follow the prompts to sign-up for an account).
Enter your business' name and address into the search bar and select "Add your business" (assuming it isn't already listed, in which case you'll need to claim it as yours).
Choose whether your want your business' location to appear on Google Maps. If you're adding a restaurant, being on Google Maps is incredibly useful! But if you're just adding a small business run out of your house, keeping that location private might be a good idea.
Add the requested information, like business category. If you aren't sure what category your business falls under, try typing a related keyword into the box and see what comes up. And remember that you'll be able to add additional categories later on.
Verify your business. Depending on your business type, you may be able to do this by phone or email. Otherwise, Google will mail a postcard to your business' address, so you might need to wait a few days before finalizing your account.
Great, your business information is now listed on Google. Next month we'll be looking at how to optimise your Google My Business listing.
Contact IH Media today to discuss your Website Design needs and let's give your business the service it deserves.